Harrison Assessment Success Story
Malaysia's Senior Consultant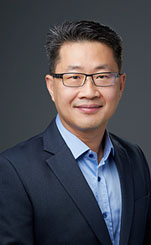 Introduction by Ava Harrison - I met Kevin Tan in Perth, Australia in 1995. He was looking into how he could become involved with Harrison Assessments'. He had recently received his degree at a university in Western Australia and was preparing to begin work at a large financial firm in Asia.
But Kevin's story should begin with his Main Graph. His four highest traits were "optimistic," "takes initiative," "wants to lead," and "authoritative." Kevin's Leadership Quadrant was paradoxically balanced and extended and he scored a 9 on "risk taking." Kevin's two lowest trait scores were: "wants stable career" and "tolerance of structure," with a 2.1 on sitting, and he scored an 8.7 on "self-employed." His best template was "management," and his worst template was "administrative." The other compelling factor was Kevin's love of people as expressed in ALL his high scores, such as "cause motivated," "outgoing," "helpful," "warmth/empathy," and a wonderful balance between "frank" and "diplomatic."
Although Kevin was a charismatic young man and loved numbers, I wondered how long it would take before he rebelled once faced with the daily demands of a large firm that was unable to satisfy his most important preferences.
On the other hand, the barriers that Kevin needed to overcome in order to become a successful HA distributors were substantial. Even though he was highly motivated and optimistic, he faced a steep learning curve in the field of HR and in running a business. The combination of a lack of experience, no business contacts, and youth would make it extremely difficult to start the business and earn the respect necessary to become successful.
Fortunately, Kevin placed a high value on loving his work. His extremely strong suitability made up for what he had not yet obtained in eligibility. Kevin has since become one of the most respected HR consultants and trainers in the region as well as one of the most successful HA distributors in the world.
Here is Kevin's story.
I would like to share my experience on developing my HA business with the presumption that all the essential success factors are precluded by the fact that an HA Distributor must already know how to manage a sustainable business, whether self-employed or employing a group of people within a company.
I became involved with InnerView (later renamed Harrison Assessments') in 1995 after being introduced by a mutual friend to Ann David, Senior Consultant for Western Australia. I was immediately impressed when Ann interpreted my profile because it became the beginning of my journey into HR Consulting and away from my accountancy career. With this new direction, I was able to test my entrepreneurial skills as a self-employed InnerView (HA) Distributor.
After almost two years of training and personal coaching by Ann, I was finally able to break through the start-up phase of my new business. I had constant, almost daily communication with Ann via fax (there was no email yet) regarding my questions from sales visits and prospective enquiries. I would fax them to Ann at the end of the business day in Kuala Lumpur, and Ann would type the answers and fax the responses and the answers back to me by 9 am or earlier the next business day.
I have great respect for Ann as she was so generous with her knowledge while I was under her wing. I would always greet her as my "Kung Fu Grandmaster," while I was the "Understudying Disciple."
It was really Ann's role in motivating and encouraging me that kept me going during a time when my business had not yet established sufficient clientele and credibility to support the HA system in Malaysia. Even though the growing cycle is a normal part of any start-up business, I now realize that certain values are absolutely essential in order to succeed as an entrepreneur. They are:
Perseverance and determination, trial and error, getting back on track with a new strategy to overcome the roadblock, driven by pure passion.
Total dedication and belief in the product by studying all there is to know about the product and knowing that you have one of the best, if not the best, assessment tool in the world.
High level of self-motivation and relentless pounding on that door until you succeed.
Extra dosage of optimism with humility, and never be embarrassed to ask for help.
Network and learn from the best. Get out there and explain what you do to as many people as possible.
Offer to do free profiles with the understanding that they allow you to interpret their profiles.
Practice, practice, practice profile interpretation. Think outside of the box.
Strong analytical mind and above average aptitude for numbers (if you don't understand or don't like numbers, you are in trouble).
Last, but not least, find a technically competent, business-oriented, sales-savvy and experienced HA Distributor that you have good chemistry with and the same working values and ethics, and someone who is willing to help develop you.
Some of my most rewarding years as an HA Distributor was when I was given the opportunity to develop two Country Distributors from 1999-2003 (Bangkok and Singapore). Developing and helping other Distributors and Sub-Distributors was both technically enriching and personally rewarding. It gave me the opportunity to return the favour and continue the great tradition of being coached and mentored by an HA Grandmaster.
Since becoming an HA Senior Consultant, I have been able to expand into numerous other areas of HR consulting that are complementary to HA including: Competency-based Interviewing Training, Talent Management, Designing Individual Development Plan, Assessment Centre for Succession Planning and Executive Recruitment for Management Trainee, Performance Benchmarking, Team Dynamics workshop, Leadership Style and Organizational Climate Survey.
HA has been proven to be a very powerful diagnostic assessment tool that is second to none. The ultimate key lies in the distributor's or user's comprehensive understanding of the system's design, scope of measurement, interpretation, and "outside of the box" creative application of statistical and quantitative data in various environments. The more experienced distributors are able to extend the "creative application" of HA into many forms and methods that always amazes its sceptics and reinforces its strengths among existing believers.
Best regards,
Kevin Tan
Principal Consultant
OMNI VIEW CONSULTANCY (M) SDN BHD
Insight . People . Strategy . Results
Kuala Lumpur., Malaysia