Harrison Assessment Success Story
Working from the top down and leveraging Harrison Assessments' are the keys to my success!"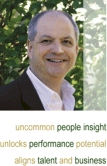 Logan Loomis is a very successful business consultant committed to helping his clients unlock their performance potential. Logan leverages several business development strategies, including workshops, publishing and coaching. "But," says Logan, "my success is primarily based on two very important factors: 1) selling from the top - that is, selling to the people in an organization that want a solution, not a tool, and who are responsible for results, and 2) leveraging the incredible insight of the Harrison Assessment data to help close the deal. Every manager has the daunting task of getting the people equation right, but most fly blind: they have virtually no suitability data to support their decision-making process. The Harrison Assessment provides the critical success data."
"Simply put, we help our clients align their people strategies and sales strategies with their business strategies. We use Harrison Assessments' to help them achieve their performance goals rather than demonstrate how 'cool' the product is-although it is very cool." Much of this, according to Logan, is accomplished by leveraging the HA eligibility and suitability data.
Logan relayed one example of how he successfully leveraged the Harrison Assessment at a market-leading company. He met with a senior vice president and learned that one of the important operating departments had a poor track record of promoting superintendents to the key project manager position. The three superintendents who were being considered for the job completed Harrison Assessment questionnaires. None of the three candidates had an acceptable level of HA suitability. The Harrison Assessment showed that the company was about to continue its poor track record. So, Logan proposed that the company assess all the superintendents, including one young superintendent who the senior vice president said was not even on the radar screen. Because he had the highest suitability score, they interviewed him for the job and were very impressed. Long story short, he was selected for the job and a year later has exceeded performance expectations. Because of the Harrison Assessment, the company has a new success formula and track record.
"We employ Harrison Assessments' to give remarkable insight into the qualities, traits and motivations shared by people who succeed in the particular type of job companies want to fill," states Logan. "None of our clients will make a hiring, promoting, or development decision without a Harrison report. Our clients rely on the Harrison Assessments' because it has proven to be a good predictor of success, is user-friendly, and is cost-effective."
"In the final analysis, with the Harrison Assessment, I am able to help our clients develop their capability to identify and develop high-potential employees and avoid mistakes. I'm very excited about the added value HATS will bring to current and future clients."
"We also evaluate job descriptions to help our clients make sure that they have operationalised their success factors. Operationalised job descriptions ensure that you have identified the activities in a job that drive the performance outcomes you want. They also make it easier to align the right traits and skills to the job."
As mentioned, Logan has used publishing throughout his career to develop new business. His primer on customer negotiation, Both Sides Win, The 3 Secrets for Success in Customer Negotiation, has been a cornerstone in developing the clients that use his sales and negotiation services and workshops. That little book, now in its second edition, teaches how to negotiate both great return and great relationships at the same time. Logan routinely and successfully shares Dan Harrison's white paper, Best Practices in Talent Assessment, with prospective clients.